Edit 32bit icons, ICLs, CURs and ANIs;
Perfectly support creating Win8/Vista icons;
Build-in fantastic tool - IconCool Mixer;
Powerful and easy-to-use marquee operation;
60+ visible filters and flexible gradient editing;
Powerful Photoshop plug-in function;
Support 20 format images import/export;
Support watermark and unique lighting effects;
Fantastic magic wand tool;
Offer 700 royalty-free 32Bit icons;
Create iPhone, Andriod and Unix icons easily.
You can NOT find the features in any other competition products:
IconCool Mixer - Creates icons with 1000 image elements created by us
Marquee operation - A powerful tool for selecting elements of the canvas
Magic wand tool - An easy way for selecting a consistent colored area
Three states - Create three states(Active, Valid and Invalid) for an icon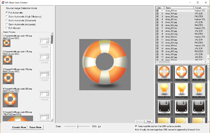 This is an unique tool on the market, users only need to provide a few source images, the program will automatically create PNG icons of 40 formats for Microsoft Store APP on-shelf.
The feature of this tool is "automation", which automatically choose source images to create icons according to the following principles:
1.32bit source image first
2.PNG format source image first
3.With similar size of target icons
4.With similar length and width ratio of target icons
5.Avoid target icon size exceeding 200K
In addition to the "Full Automatic" mode, there are three "Semi-Automatic" modes for selecting source images, and a "Fully Manual" mode, users can even manually specify a source image for each format.
To avoid the created icon files are larger than 200K, you can choose to let the program limit the size as much as possible.
Support 500+ graphic formats including some vector formats;
Support conversions between PDF and 100+ formats.;
Support Multi-Page Format and Alpha Channel;
Batch conversions with 40 filters and 13 image effects;
Support 9 powerful function modules: Watermark, Cropper, Splitter, Frame, Combination, Resizer and more.