IconCool Editor Easy-to-use 32bit icon editor, Vista icon creator and cursor maker
IconCool Editor is an easy-to-use and powerful icon editor to edit icons, cursors and web graphics. It comes with all the functions for creating and editing ICO, CUR, ANI, ICL, GIF, JPG and WBMP image files. In addition, it offers more than 50 image filters as well as 20 image effects. With this free icon maker software, you can convert images in 25 formats to icons easily, you can extract icons from EXE, DLL, ICL or OCX and then edit or re-save them.
Support Windows 7/8/Vista Icons
IconCool Editor can create and edit icons for Windows 7/8/Vista in 32-bit color depth with an alpha channel. You can easily create wonderful, semi-transparent XP icons.
IconCool Editor has begun to support the next generation OS Window Vista from now on. You can create and edit Vista icons which includes the compressed 256x256 images easily.
Vista Style Sample Icons(click to view)
There are some Vista sample icons in IconCool Editor package, and after registration you can get more Vista style icons created by our icon design team.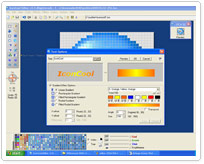 Support extracting icons and re-saving
IconCool Editor can extract icons from EXE, DLL, ICL and other files, and send the extracted icons to the edit area for modifying, then save them back.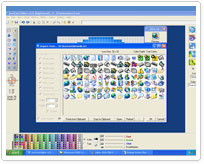 Images effects and filters
IconCool Editor has 50 image filters, including Blurring, Sharpening, Embossing, Diffusing, Color Balance, and more. IconCool Editor has 20 image effects, including Linear Gradient, Wave, Noise, Arbitrary Rotation, and more.
Support varied gradients
IconCool Editor supports Linear Gradient, Rectangular Gradient, Filled Rectangular Gradient, Radial Gradient and Filled Radial Gradient effects, supporting 76 groups of sample colors. You can also customize 24 groups of colors by yourself!
You can easily print text in your icons.
You can use gradient effects to print text in any icon.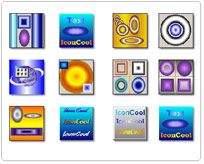 Support ANI animation cursors
IconCool Editor has a convenient tool to build or modify ANI animation cursors. For each icon, IconCool Editor has 100-level Undo/Redo functions.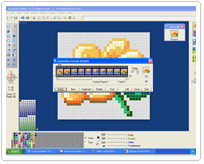 Support capturing tool
IconCool Editor has a smart image capturing tool to capture images of various sizes from your desktop, web pages or other software.
You'll find a convenient pop-up menu in the editor area.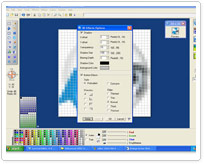 Additional Features
IconCool Editor can edit 10 icons at the same time.
IconCool Editor can send the edited icon to your AIM messenger and change your buddy icons.