Support the following audio formats
Uncompressed WAV PCM;
WMA (Windows Media Audio);
MP2 (MPEG 1/2 Layer-2);
MP3 (MPEG 1/2 Layer-3);
VOX (Dialogic ADPCM);
RAW audio (PCM, A-LAW, U-LAW);
Support for editing 32-bit images.
Compressed WAV (GSM, ADPCM, DSP... )
MPC (MusicPack);
AVI (audio track);
G.726, G.723, G.721;
Ogg Vorbis (Version 1.0);
MPC (MusicPack);
AVI (audio track);
AU (UNIX audio format).
Visual representation of audio data in the process of playback;
Easy-to-use playlist box, you can directly drag your music files from your Windows Explorer to this playlist box for playback;
Supports Winamp M3U, PLS playlist;
Supports ASX, WAX, WVX playlist of Windows Media Player;
Supports editing tags in audio files.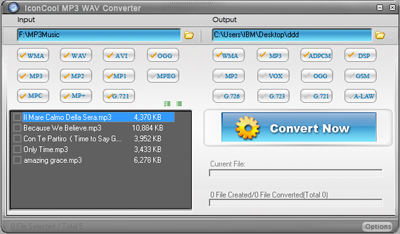 Audio Converter
Supports batch mode for fast converting of several files at one time;
Imports from MP3, WMA, WAV, AVI, OGG, MP2, MPEG, MPC, MP+ and G721;
Exports to MP3, WMA, ADPCM, DSP, MP2, VOX, OGG, GSM, G721, G723, G721 and A-LAW..