Animation Functions
MP3 WAV Studio is an all-in-one solution for converting, ripping, burning and playing of audio files. In addition, the program can also create, encode, decode and convert between MP3 and other formats. Additional features include jitter-correction for ripping of scratched CDs, burn proof, batch conversions, drag and drop playlist creation, as well as a MP3 site manager and more.
Support the following audio formats
Uncompressed WAV PCM;
WMA (Windows Media Audio);
MP2 (MPEG 1/2 Layer-2);
MP3 (MPEG 1/2 Layer-3);
VOX (Dialogic ADPCM);
RAW audio (PCM, A-LAW, U-LAW);
Support for editing 32-bit images.
Compressed WAV (GSM, ADPCM, DSP... )
MPC (MusicPack);
AVI (audio track);
G.726, G.723, G.721;
Ogg Vorbis (Version 1.0);
MPC (MusicPack);
AVI (audio track);
AU (UNIX audio format).
Visual representation of audio data in the process of playback;
Easy-to-use playlist box, you can directly drag your music files from your Windows Explorer to this playlist box for playback;
Supports Winamp M3U, PLS playlist;
Supports ASX, WAX, WVX playlist of Windows Media Player;
Supports editing tags in audio files.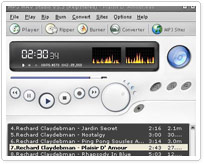 Audio Converter
Supports batch mode for fast converting of several files at one time;
Imports from MP3, WMA, WAV, AVI, OGG, MP2, MPEG, MPC, MP+ and G721;
Exports to MP3, WMA, ADPCM, DSP, MP2, VOX, OGG, GSM, G721, G723, G721 and A-LAW..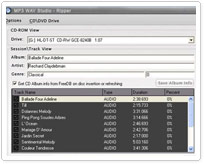 CD Ripper
Allows fast ripping from audio CDs to WAV, MP3, WMA or OGG formats directly without intermediate WAV files;
Supports jitter-correction ripping modes to restore damaged tracks from scratched CDs;
Supports CDDB;
Supports multi ripping modes.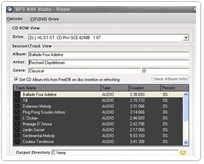 CD Burner
Records audio CD discs On-the-Fly and erases re-writable discs;
Supports majority of modern IDE, USB, SCSI CD writers assembled in 2001 year or later. Pioneer, Sony, Ricoh, HP, Toshiba, Plextor, Lite-On, Mitsumi, HP, LG, Philips, TEAC, Toshiba, TDK, etc;
Supports Buffer Protection systems, like Burn Proof and others for error free recording;
Creates audio CDs easily from wide range audio files like WAV, MP3, WMA, OGG, RAW, VOX, etc;
Imports multi-session CDs and merges new files with an existing session;
Supports Track-At-Once (TAO), Session-At-Once (SAO) and Disc-At-Once modes (DAO);
Creates fully compatible ISO9660 Level 1, 2 and Joliet data CDs.